Europe faces a "moment of truth" over migrants
Comments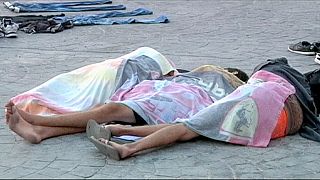 The European Commission has confirmed plans for bigger refugee relocation quotas.
It follows a visit to the Greek island of Kos by the First Vice President Frans Timmermans and the EU Migration Commissioner Dimitris Avramopoulous.
They discussed plans to create a so-called "hot-spot" to enable quick identification, an assessment of people's needs and humanitarian assistance.
"Kos is a the forefront, but Kos can't be left alone with this problem, it is a global challenge that requires European solutions, that requires European solidarity. Ladies and gentlemen, we are facing a moment of truth in European history," Timmermans told reporters.
Greece, Italy and Hungary, the three countries most affected, will be especially keen to hear next week of enhanced relocation proposals from the EC Commission President Jean-Claude Juncker.
Greece has asked the EU for about 700 million euros to build infrastructure to shelter refugees and migrants arriving daily on its shores from conflict areas, such as Syria, Iraq or Afghanistan.
Aid agencies estimate that every day some 2,000 people cross over to Greek islands