Hungarian 'Freedom Train' stationary for a second day
Comments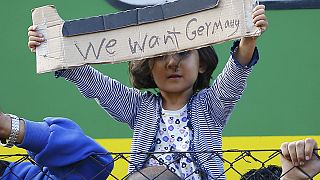 Hundreds of men, women and children, mostly from Syria, remain stranded on a train in Hungary for a second day.
Authorities stopped the train at Bicske, 35km west of Budapest, and ordered the migrants to disembark and head to a nearby refugee camp for registration.
#Refugee outside the #train in #Bicske#Hungary holds up sign asking "Where is the World?" pic.twitter.com/zR08ePD13y

— Mohammed Jamjoom (@MIJamjoom) September 4, 2015
Police at #Bicske station impassive as #refugees chant 'Germany' 'Freedom' 'No camp'. V tricky for govt to solve now. pic.twitter.com/Ss3hwFAMCH

— Lindsey Hilsum (@lindseyhilsum) September 4, 2015
Scuffles broke out as asylum seekers refused to cooperate.
Those on board are demanding passage to Germany.
At Keleti Station in central Budapest migrants complained that they were being driven into the hands of people smugglers.
"Where is this train going?" A recap of the chaos at #Keleti station in Budapest. http://t.co/f6CHhfrN6Upic.twitter.com/qq3tdcLLDI

— New York Times World (@nytimesworld) September 4, 2015
"If the EU continue to treat us like this they will push us to truck death," said one desperate Syrian refugee.
Monsterrat Feixas VihéIf from the UNHCR says the confusion and lack of coherent information is making the situation more difficult:
"People need to know, they deserve to know what is in store for them, where they are being sent and to then make the right decision."
The Hungarian parliament is due to vote on whether to increase the number of refugee camps, tighten border controls and if the situation constitutes a state of emergency.
Prime Minister Viktor Orban has described the crisis as a "German problem" as Germany was the desired destination of those arriving in Hungary.
Last week Angela Merkel's government hinted it would grant Syrian refugees asylum no matter how they gained entry into the EU.