Serbia PM demands EU finds solution to migrant crisis
Comments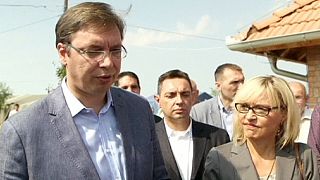 Serbia's prime minister had warned of "huge problems" with migrants once Hungary deploys its military on its border with Serbia.
Aleksandar Vucic spoke during a visit with Bavarian Minister for European Affairs Beate Merk to a reception centre for migrants in northern Serbia, near the border with Hungary.
Vucic said Serbia is ready to share its part of the burden, but wants a comprehensive solution from the EU
He has urged the European Union to come up with a plan before and new measures take effect on September 15.
"Their dream is to cross the border with Hungary, and then, they don't know what might happen, but it doesn't matter — that's their dream. But after that, after 15th of September, when Hungarians change their bills on — I don't know what will be the name of that bill — when they are going to ban entrance for all these refugees, what are we going to do with this situation?," Vucic said.
Merk warned that the German state of Bavaria will not allow economic migrants in, only those seeking refugee status.
"…we are also calling on all European countries – we have 28 member states – to be prepared to take in refugees, and not to leave it to just a few countries as has been the case so far," said Merk.
Meanwhile hundreds of migrants boarded a train in the Macedonian border town of Gevgelija to continue their journeys further north to Serbia and onwards to Western Europe.