Denmark's first astronaut heads to space
Comments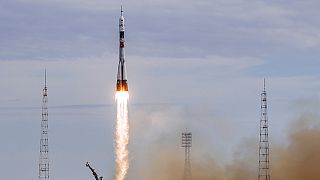 Denmark's first astronaut has blasted off into space on a Russian Soyuz rocket bound for the International Space Station.
Andreas Mogensen is part of a three-man crew which includes veteran Russian cosmonaut Sergei Volkov and the third ethnic Kazakh in space, Aidyn Aimbetov.
One of Mogensen's jobs will be to test new equipment on Danish-made exercise bikes designed to help astronauts battle the negative impact of weightlessness.
Aimbetov is taking dried mare's milk and traditional Kazakh cheese to orbit, both popular products among nomadic cultures of Central Asia.
The Soyuz rocket will take two days to the reach the ISS, rather than a six-hour approach usually taken in recent years.
Andreas Mogensen becomes the first Dane in space today, fulfilling an ambition he has had since childhood. An aerospace engineer by training, he's one of
ESA
's 'class of 2009' astronaut corps, which includes the likes of Samantha Cristoforetti, Alex Gerst and Tim Peake. Andreas has a short mission to the
ISS
, and will actually be back home at the European Astronaut Centre in Cologne by Sunday 13th September.
It will be an action-packed few days for Andreas, as he will be performing all kinds of science experiments, including the fascinating challenge of trying to use a robotic arm with submilimetre precision on Earth while in orbit. The robotic arm will give him force-feedback, meaning he should be able to 'feel' what it is doing on the ground. This kind of research is important as it opens doors to new ways for mankind to explore other planets and bodies in our solar system.


The likeable Dane, who spent many years in Surrey in the south of England yet speaks with an American drawl, is charmingly open about his training, and admitted to Euronews that he found learning the Russian language a huge challenge. After a few days in a small capsule speeding around the Earth with Sergei Volkov and Aidyn Aimbetov, one can assume that he will have a superb grasp of colloquial Russian expressions for things like 'look at that amazing view' and 'hey, weightlessness feels great!'.


- Jeremy Wilks, producer of Space on euronews