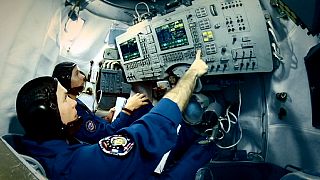 Sitting on top of a rocket and blast into space requires mental as well as physical strength. So we put the question to Denmark's Andreas Mogensen: 'what do astronauts worry about?'. He begins his answer with a broad smiles, "What do astronauts worry about? I mean, everything from the big to the small," he laughs. "We really spend a lot of time almost memorizing what you're supposed to do in the event of an emergency. But we also worry about calling our family, talking to our friends."
Romain Charles works at the European Astronaut Centre in Cologne, Germany, as an astronaut support engineer, making sure that those in flight have a smooth mission, and maintain good contact with family and close ones on the ground. He is also a specialist in long-duration spaceflight, as he was one of the team that took part in the Mars 500 mission in which a crew of six men simulated a return mission to Mars by spending 500 days in a mock-up spacecraft in Moscow. He told us about the psychological aspects of spaceflight: "While you're in space you have a lot of different pressures coming on your shoulders. The first one I would say is the schedule, it's very tight."
Andreas Mogensen, who is Denmark's first astronaut, agrees: "Our greatest pressure on us is that the science and technology experiments that we perform are performed successfully."
"The second one is risk," continues Charles. "You are in an extreme environment, if anything goes wrong it goes really wrong."
Charles is a strong believer in the power of teamwork and the need for mutual respect and a spirit of solidarity among the crew. He stresses that alongside the physical risks, there is a collective need to maintain a positive environment, especially during longer space missions. "Everybody will have ups and downs during this long duration flight, but as a crew it will not be at the same time, and together, you can make it," he says.
Andreas Mogensen
Denmark's first astronaut, Andreas Mogensen will accompany opera singer-turned space tourist Sarah Brightman to the
ISS
on 1st September 2015 on a 10 day mission. He was born in Copenhagen in 1976 and studied aeronautical engineering at Imperial College London, including a semester at
IST
Lisbon. He has a doctorate in aerospace engineering from the University of Texas at Austin. He enjoys scuba diving, skydiving, kite surfing, kayaking and mountaineering.