More civilian deaths in Saudi-led air raids on suspected Houthi targets
Comments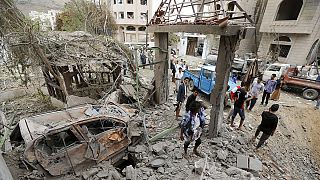 Saudi-led air strikes pounded several targets in Yemen on Sunday. In the northern province of Hajjah at least 36 civilians were killed while working at a bottling plant.
A Saudi spokesperson said the facility had been a Houthi rebel bomb factory.
In the capital Sanaa more air raids left one man dead. The attacks are the latest in an air campaign launched by an alliance of Gulf Arab states in support of the exiled government in its fight against Houthi forces.
"The missile struck at 10.30 this morning so we went out and saw that it had targeted civilians.," said one Sanaa resident. "There were no Houthis there. They targeted civilians, all of them just ordinary people."
War crimes
Human rights group Amnesty International said in a report this month that the coalition bombing campaign had left a "bloody trail of civilian death" which could amount to war crimes.
Air strikes killed 65 people in the frontline city of Taiz last Friday, most of them civilians and the bombing of a milk factory in Western Yemen in July killed another 65 people including 10 children.
*Al Qaeda *
Also on Sunday an unknown gunman on a motorcycle shot and killed a senior security official in the southern port city of Aden. No one has claimed the attack on General Abdel-Hakin al-Saneedi, but officials say they suspect al Qaeda militants (who have increasingly moved into Yemen) because hitting a moving target from a speeding motorcycle requires specialized training and they have carried out assassinations of this type before.
At a nearby military barracks some 5,000 fighters are being trained up to join the Yemeni army. Recently troops loyal to exiled President Abd -Rabbo Mansour Hadi have made gains in Houthi controlled areas. The president who accuses Iran of backing the rebels yesterday warned of Iranian expansion in the Middle East.
Over 4,300 people have died in five months of war in Yemen while disease and suffering in the impoverished country have spread.