Hundreds pay tribute to police officer killed at a Texas petrol station
Comments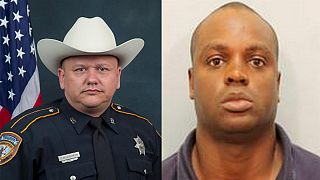 Hundreds turned out on Sunday to pay tribute to the Texas Sheriff's deputy who was gunned down as he filled his patrol car with petrol.
Forty-seven year old Darren Goforth was killed in an unprovoked attack on Friday.
Officials have linked the shooting to anti-police rhetoric following protests against recent deaths of unarmed black men at the hands of white officers.
Yesterday, Harris County Sheriff Ron Hickman reacted to Deputy Darren Goforth's killing. http://t.co/IJzmZzchhzpic.twitter.com/qapUGYOKv2

— Fox News (@FoxNews) August 30, 2015
Harris County resident Vera Richardson said the shootings had to stop:
"I think we should use this opportunity to, with this police officer, to have a fact based balance. OK. Cops are getting killed, black people are getting killed. We got to stop this. We don't want cops to get killed and we don't want innocent black citizens to be killed for minor traffic infractions or minor infractions selling cigarettes."
The local police department has assumed Goforth was a target just because he wore a uniform and he was in the wrong place at the wrong time.
With the incident caught on CCTV, 30-year-old Shannon Miles, a Houston man, was quickly identified and has been arrested. He is expected to appear in court today (Aug 31) charged with capital murder of a police officer.