Turkey joins US-led coalition in airstrikes against ISIL in Syria
Comments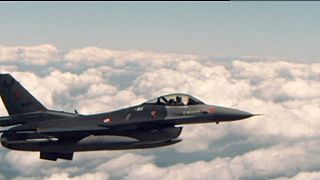 For the first time Turkish fighter jets have taken part in US-led airstrikes against the self-proclaimed Islamic State – also known as IS, or ISIL – in Syria.
The Turkish foreign ministry announced the move, which came a month after the government agreed to open its air bases to the coalition.
Ankara had formerly been reluctant to play a dominant role in the battle against ISIL, fearing repercussions.
In July its air force targeted some of the jihadist group's strongholds in neighbouring Syria independently of the coalition operation.
Fighting resumes in Syria
Meanwhile, fighting reportedly resumed in three key towns in Syria, at the end of a forty-eight-hour ceasefire.
The Syrian army and its allies in the Lebanese militant group Hezbollah have been attacking Zabadani, close to the capital Damascus.
Insurgents have beseiged the two government-held Shi'ite towns of Foua and Kafraya in Idlib Province.
The renewed fighting destroys hopes of an extension to the truce, which would have allowed food and medical supplies in.