Venezuela-Colombia tensions rise as Caracas shuts more of border
Comments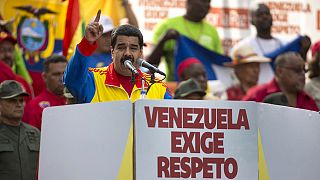 A number of Venezuelans have shown support for their President Nicolas Maduro at a rally in the capital. However, tensions between the country and neighbouring Colombia are likely to escalate further following a decision by Caracas to close more of the border they share as of August 29.
A major crossing on the frontier was shut a week earlier in an effort to crack down on alleged rampant smuggling and paramilitary activities near Colombia.
Now, a section of the border affecting at least seven towns in Tachira state has also been shut.
Construction worker Luis Villaroel supported the government's actions.
"I think the measure taken by the president to close the border is correct since he needs to protect us, the Venezuelans, from issues and things that are happening on that border," he said.
Following the initial crossing closure, some 5,000 Colombians vacated their homes along the border.
Around 1,000 more were deported by Venezuelan officials. Many, such as Emilce Gaona, are now living in makeshift camps.
"Diplomatic solutions came too late. Everything has happened, everything is over, our house is finished and everything is broken. It's not fair, it's excessively cruel for us Colombians," she said.
The clampdown has provoked an escalating dispute between the two countries and ambassadors have been recalled.