Palestinian women and children force Israeli soldier to release boy
Comments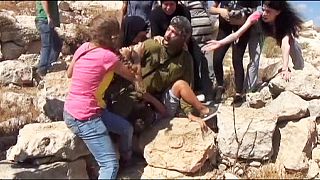 In a disturbing video that has gone viral online, an Israeli soldier is seen pursuing a young Palestinian boy and pinning him to the ground amid clashes in the West Bank.
The child, with one arm in a sling, was accused of throwing stones at Israeli forces.
But the soldier's attempts to arrest him are thwarted by the arrival of Palestinian women and children, who begin beating the serviceman and eventually force him to flee.
Some reports suggest a girl seen in the images – who bites the soldier's hand at one point – is well-known child activist Ahed Tamimi, who has featured in a string of such videos confronting Israeli soldiers. She has won recognition in Turkey, receiving a bravery award.
The scene was filmed in the village of Nabi Saleh near Ramallah where residents regularly protest against the confiscation of local land and a spring,amid Jewish settlement building.
Most countries consider the settlements Israel has built in the West Bank, land
it captured in the 1967 Middle East war, to be illegal.