Hundreds feared dead as migrant boats capsize off Libyan coast
Comments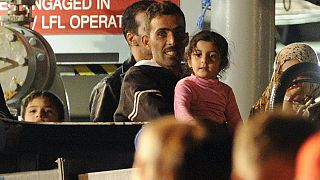 Reports suggest hundreds are feared dead after two boats capsized off the Libyan coast.
Local residents and officials say one boat had up to 50 people on board. A second boat sank much later. It is believed to have been carrying up to 400 passengers.
Around a hundred bodies are said to have been taken to the port city of Zuwarah, west of Libya's largest conurbation, Tripoli. Twenty people were reportedly rescued.
Poseidon rescue
A day earlier, at least 51 bodies were found in the hold of a boat off the Libyan coast during a rescue operation which saved around 430 others.
Poseidon, a Swedish ship working with the European Union's border control agency Frontex, carried out the rescue operation and brought the victims and survivors to Palermo in Sicily.
"The atmosphere below was very bad, very low level of oxygen. It was very, very crowded. And it was also the engine room. We can just imagine what it could have been travelling like that," Mattias Lindholm, Swedish Coast Guard spokesperson told the press.
2,400 die at sea
According to the United Nations, over 2,400 migrants have died in attempts to cross the sea to Europe this year.