Syria: 'Miracle' rescue of little girl amid deadly weekend of violence
Comments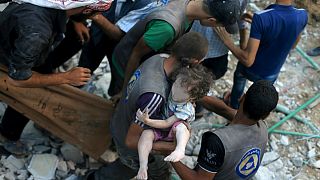 Damascus Central Prison was targeted by rebels on Sunday, in another deadly day of Syria's four-year-long civil war.
Insurgents shelled the building, reportedly alongside residential areas of the city, in an attack that has claimed at least 11 lives and left dozens of people injured.
Officials say the rebels fired mortar shells during visiting time.
"Most of the casualties were among the visitors, especially women and children who wanted to visit their children or husbands," said
Nabil al-Ghajari, the head of the prison.
Sunday's attack came the day after residential areas in the rebel-held northeast of the Syrian capital were hit by missiles fired by government forces.
Rescuers say at least 50 bodies have been retrieved in the city of Douma but that a young girl was pulled out alive after spending a night under the rubble, as seen in images uploaded to social media.
Her father and all her brothers are said to have died during the bombardments.
A United Nations commission of inquiry into the Syrian war has previously accused the government of indiscriminate shelling and aerial bombardment, including the use of barrel bombs regularly dropped on crowded areas.
The Syrian army denies it targets civilian areas and said it strikes at hideouts of armed insurgents who seek to topple President Bashar al-Assad.