Words over weapons: North and South Korea discuss border tensions
Comments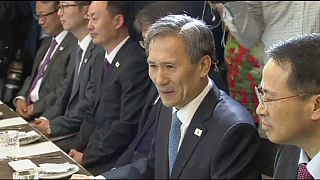 Top officials from North and South Korea are meeting in an attempt to diffuse mounting tensions on the border with words, rather than weapons.
Talks are taking place in the Panmunjom truce village, in the Demilitarised Zone – or DMZ – separating the two states.
The discussions were scheduled to start at 5.30pm local time, or 11am Central European Zone (August 22).
South Korea said the intial proposal for talks came from the North. It then claims to have made a revised proposal, changing the suggested meeting day from Friday to Saturday. Seoul reportedly also requested the attendance of Hwang Pyong So, the top military aide to North Korea's leader Kim Jong-un.
Pyongyang had previously issued its southern neighbour with an ultimatum: stop making anti-North Korea broadcasts by 5pm on Saturday, August 22, or face military action.
The deadline passed without any reported incidents.
Broadcasts
South Korea's broadcasts restarted after an 11-year hiatus.
Its government originally said the announcements would continue until the North admitted responsibility for landmine explosions earlier this month, which wounded two South Korean soldiers.
Pyongyang denies any involvement.
An exchange of artillery fire ensued on Thursday (August 20). According to Seoul, Pyongyang launched four shells across the border. South Korea says it fired back 29 artillery rounds.
"The situation on the Korean peninsula is now inching close to the brink of a war due to the reckless provocations made by the South Korean military war hawks," North Korea's state news agency, KCNA, reported.
North Korea put its troops on a war footing from Friday evening (August 21) local time.
The two states are technically still at war after a 1950-53 conflict ended in a truce, rather than a peace treaty.