North Korea moves to war footing over Seoul's border broadcasts
Comments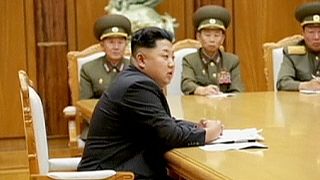 North Korean leader Kim Jong Un on Friday declared the country's front-line troops on a war footing, after tensions with South Korea soared following an exchange of fire at the border.
Such threats from Pyongyang are common, but this time the declaration came after South Korea fired dozens of artillery rounds towards the North on Thursday.
The South Korean fire had come after the North had shelled across the border to protest against anti-Pyongyang broadcasts by Seoul.
After a lull of 11 years, the loudspeakers have restarted.
The North has threatened to take further action if the South does not stop the broadcasts.
Kim Jong Un has advised his troops to be fully ready for military operation from 5 p.m. (08.30 GMT) local time on Friday, according to North Korean state media.