North Korea says it is ready for all-out war
Comments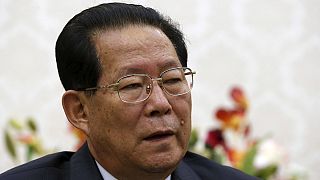 Tensions on the Korean peninsula have escalated with the North saying it is ready for an all-out war, according to the country's Foreign Ministry.
In a statement released on Friday, Pyongyang said both the military and the public are prepared to safeguard its regime and rejected the idea of restraint following South Korea's rejection of an ultimatum to stop propaganda broadcasts.
Kim Yong Chol, Director of the General Reconnaissance Bureau of the Korean People's Army said "the South Korean puppets' evidence is full of lies and fabrications. Their aim is to bring about the collapse of the ideology and system which our people have chosen themselves, which our soldiers protect with their lives. They also want to deprive us of our power and every aspect of our lives."
Meanwhile, South Korea said it expected the North to fire at some of the eleven sites Seoul set up earlier this month with loudspeakers blasting out anti-Pyongyang propaganda on its side of the Demilitarised Zone (DMZ), which separates both countries.
The latest hostilities are a blow to South Korean President Park Geun-hye's efforts to improve relations between both countries. Speaking on Friday she said "the military should be quick to react to further provocations" and warned that they should "act and then report back".
Meanwhile, the United States has resumed its annual military exercise with South Korea after suspending it earlier this week in order to coordinate with Seoul over shelling across the border with North Korea.
Pyongyang regularly condemns the exercises as a preparation for war.
China, which remains North Korea's main economic backer, said it was deeply concerned with the escalation of tension and called for calm from both Seoul and Pyongyang.
Those calls were echoed by the UN Secretary-General Ban Ki-Moon.