FYROM: hundreds of migrants enter, thousands stranded at Greek border
Comments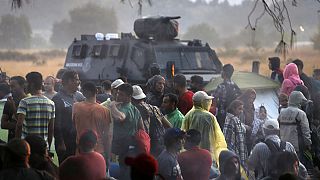 Heading north after a tense wait, hundreds of migrants have been allowed to cross the border from Greece into the Former Yugoslav Republic of Macedonia (FYROM).
Under pressure from the United Nations' refugee agency, the government in Skopje has announced it will allow 300 people into the country every two hours.
But thousands remain stranded on the border. Most are desperate to reach northern Europe.
Once inside FYROM, the next step for many is to board a train for Serbia. From there, they hope to enter Hungary and the visa-free Schengen zone.
But Hungary is building a fence at its border with Serbia. Expected to be completed by the end of August, its aim is to stem the flow of people entering the country.
Meanwhile, trains bound for the north of Greece continue to leave from Athens.
With thousands waiting at the border, on August 20, 2015, the Former Yugoslav Republic of Macedonia briefly sealed its southern border and declared a state of emergency.