Ruling party wins Sri Lankan election
Comments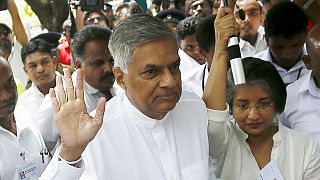 Sri Lanka's ruling United National Party has won the most seats in the country's parliamentary elections.
The UNP picked up one hundred and six out of a possible two hundred and twenty five seats.
It means the party's leader Ranil Wickramasinghe will almost certainly keep his job as prime minister.
He is set to form the next government with a number of smaller parties.
The outcome looks to have thwarted former president Mahinda Rajapaksa's planned comeback.
Rajapaksa wanted to lead the next government, but his United Freedom People Alliance party won 95 seats.
He was the losing candidate in Sri Lanka's presidential election in January.
But he remains popular with the sections of country's Sinhalese majority that supported his controversial 2009 crackdown on Tamil guerrillas.