Crimea: Putin blames Kyiv for Ukraine violence, warns Tatars not to expect special status
Comments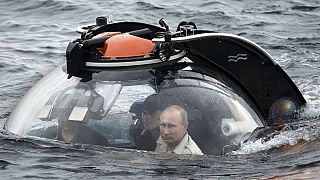 Russian President Vladimir Putin has blamed Kyiv for the latest burst of fighting in Ukraine's restive east.
Putin made the accusation on the second of a three-day trip to Crimea – the peninsula Russia annexed from Ukraine last year.
The visit has angered Kyiv, which still considers the Black Sea region Ukrainian.
However, the Russian president praised the 2014 takeover as a matter of historic justice.
It's a view not shared by the West. Sanctions slapped on to Moscow following the annexation have cost the Russian economy dearly.
They aggravated an economic crisis in the country, which is suffering from weak oil prices and a rapid devaluation of its rouble national currency. Russia is also struggling under curbed technology transfers from the West, which are crucial to its future development.
Interethnic relations
The official purpose of the trip is to promote tourism in Crimea, but Putin also used the occasion to meet with the area's minority groups, including the Tatars, the third largest ethnic group on the peninsula.
"Inter-ethnic relations are a delicate matter," Putin told envoys. "I see any speculation on any sort of special rights for one particular ethnicity as extremely dangerous."
Persecuted during dictator Joseph Stalin's Soviet era, the Tatars finally started returning to Crimea in 1991.
Muslim Tatars largely opposed the 2014 Russian annexation.
Since then Moscow has accorded official status to their language. However, their main assembly has been evicted from its premises and their television broadcaster has been silenced.