Both sides blame each other for latest Ukraine violence
Comments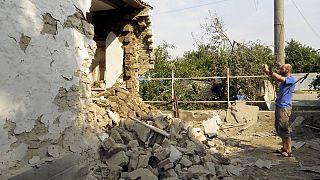 Sunday night's fighting in eastern Ukraine between government forces and rebels claimed the lives of several civilians, according to both sides.
In Kyiv the military has said two soldiers also died and seven others were wounded in a 24-hour period.
The defence ministry said on Monday that "Russian-backed terrorists" had violated the Minsk peace agreements 148 times on Sunday.
The clashes happened at Sartana near Mariupol and at Gorlivka, a rebel-held town near the main separatist stronghold of Donetsk.
On the government side, the local authority chief in Sartana said "massive shelling" had caused suffering to civilians.
"Two died immediately, six were injured. At the moment we've inspected 54 houses that were damaged," said Stepan Maakhsma, head of Sartana town council.
A separatist website said government shelling in Gorlivka had killed three people.
Calling for the Minsk peace accord to be implemented, Russia's foreign minister Sergei Lavrov said on Monday that he suspected Kyiv of preparing a new military offensive.
In an interview published on Sunday, Germany's Foreign Minister Frank-Walter Steinmeier described the situation as "explosive".
#Russia & #Germany FMs voiced support for the implementation of measures on heavy weapons withdrawal #Ukraine, 14/08 http://t.co/JLdSZph7Bu

—

MFA

Russia (@mfa_russia) August 16, 2015