Caught red-handed: the Russian Major fighting in Ukraine
Comments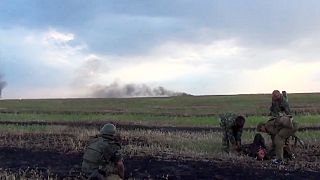 As fighting escalates between government troops and rebels in eastern Ukraine, despite the February ceasefire, euronews met with a captured Russian officer, who explains how he was recruited to assist the separatists on Ukranian territory.
We (had to) do our military service in Ukraine...It was forbidden to inform our families about this
Vladimir Starkov was arrested on July 25 with a truck full of ammunition at Berezove checkpoint. He was going from Donetsk to the village of Yasne, in rebel-held territory, but lost his way and was intercepted by a Ukrainian border patrol.
Euronews met him in the detention center in Kyiv where he was sent after his arrest.
"At the time of I was detained, I was a regular serviceman in the armed forces of the Russian Federation with the rank of Major. I was chief of missile and artillery weapons service in the military unit in the Russian city of Novocherkassk", says Starkov.
Questioned by the Ukranian security service, he said that around 2,000 Russian servicemen are currently deployed in Eastern Ukraine.
Many of them did not volunteer, just like Starkov. When he was ordered to move to the Rostov region bordering Ukraine, little did he know that he would serve in Eastern Ukraine.
"Senior officers gathered us in a conference room and announced that our positions would be the same as promised, but we should do our military service in Ukraine: in the Donetsk and Lugansk People's Republics. It was forbidden to inform our relatives about this," he says.
Starkov was in charge of weapons accountability. When he was captured, he was traveling with fake ID and ammunition that he was supposed to deliver to separatists.
"These kinds of weapons aren't produced in Ukraine. And here we can see the document proving they're the property of a Russian military unit," says the Ukrainian Security Service's press officer Vitaly Lytvinenko.
After his arrest, Starkov tried to call his family, but his calls did not go through. Euronews' attempts to reach Starkov's wife Larissa had the same result, our call only getting the pre-recorded message "Sorry, this type of call can not be set up".
The Russian Defense Ministry and Russian Embassy in Kyiv ignored euronews' request to comment on Starkov's identity.
Russia has always denied sending its military personnel to fight in Ukraine. However it has been alleged that Russia is rotating thousands of soldiers all along the eastern Ukrainian frontline, that soldiers families are being kept in the dark, even if they are killed, and that threats like denying servicemen cheap loans for their homes have been used.
Relatives looking for answers about family members from whom they receive no news have reportedly been harshly treated, and there have been numerous sightings of servicemen along the frontline wearing Russian army uniforms, or driving vehicles with Russian army insignia. Moscow insists any Russian fighters in Ukraine are "volunteers", or taking "holidays".
When two other Russian servicemen were arrested last May, Moscow said they had previously quit the military.
Starkov is being charged with terrorism.