Ex-president seeks comeback in Sri Lankan general election
Comments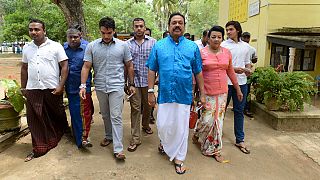 Sri Lankans have gone to the polls to elect a new parliament in a vote dominated by the possible comeback of the country's former president.
Mahinda Rajapaksa lost the presidential election in January after nine years in power.
He is now seeking to become prime minister.
The 69-year-old is popular amongst the Sinhala-speaking Buddhist majority for his crackdown on Tamil guerillas in 2009.
But his opponents accuse him of corruption and abuse of power; charges that Rajapaksa denies.
Incumbent prime minister Ranil Wickramasinghe hopes to win enough seats to keep his job.
He was handpicked by current president Maithripala Sirisena for the position.
Sirisena is a former political ally of Rajapaska. The two men fell out when they ran against each other to become president.
Authorities in Sri Lanka do not organise exit polls.
The official results are expected on Tuesday.