Conflicting information about evacuations after Tianjin explosion
Comments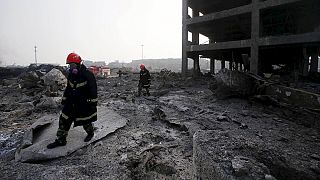 Chinese police have confirmed the presence of deadly sodium cyanide after explosions in the city of Tianjin last week.
The state-run Beijing News reported the chemical, which is fatal when inhaled, was "roughly east of the blast site."
China's state news agency Xinhua said residents who had taken refuge in a school were evacuated on Saturday after the wind changed direction prompting fears that toxic gases could blow inland.
It was not clear from media reports how many people had been evacuated , but a district official told reporters there had been no evacuation!
Meanwhile families of missing workers and firefighters are furious there's still no word on their missing loved ones.
"We are waiting for answers," said Yang Chunmin, whose brother is a missing firefighter. "There's been no information at all."
"We want to see them, dead or alive," said Xue Tao, the brother of another missing firefighter: "We are all very anxious. They keep us waiting, but I don't think I can wait any longer. It's my brother."
China Central Television (CCTV)reported a 50-year-old man was rescued near the blast zone. He was in a stable condition after spending three days inside a shipping container.