Tianjin blasts: Relatives anxiously await news of dozens still missing
Comments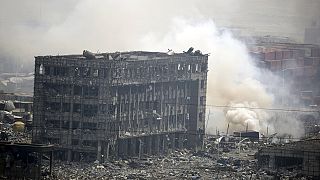 A camera pans over the devastation caused by two huge blasts in the eastern Chinese city of Tianjin. Burned-out buildings, rows of ruined cars and wrecked shipping containers seems to be all that remains of the site at one of the world's busiest ports, following explosions so big they registered on a seismometer.
Continue: Latest close-up #drone photos reveal devastating sight at core area of #Tianjin blasts. Fires still not out pic.twitter.com/g1mNOmNuZ6

— China Xinhua News (@XHNews) August 14, 2015
At least 50 people are known to have died, including 17 firefighters.
Firefighters were already at the site when the blasts occurred. They had been called to earlier reports of a container fire.
More than 700 people have been injured – at least 71 critically – and dozens are reported missing.
Temporary shelters were set up to house the more than 3,500 locals who were made homeless as a result of blasts.
Anxiously waiting
According to local media quoting Tianjin Port Group Company, dozens of employees are still unaccounted for.
Distraught friends and family are anxiously awaiting news. Wang Jinbao told reporters his son was injured fighting the blazes.
"We don't know exactly what happened to them at the scene," he said. "We arrived here yesterday from our hometown. We made some calls after hearing about the explosions and then we drove four hours to come here."
Zhu Xiqing's husband was also injured:
"(He) was inside the Intensive Care Unit. His spleen and stomach were hurt and his internal organs. His back was also wounded," she recounted.
Firefighter found alive
More than 36 hours after the blast, Chinese state media agency Xinhua reported 19-year-old fireman Zhou Ti had been discovered alive among the rubble.
According to local officials, 18 firefighters are missing. Tianjin fire department chief Yhou Tian told the press over 1,000 firefighters and 140 fire engines are still battling the blaze.
Why were the explosions so big?
A warehouse belonging to Ruihai Logistics reportedly exploded in the port area. According to its website, the company specialises in handling hazardous goods, including compressed gas, flammable liquid and toxic chemicals, some of which are said to become extremely explosive when mixed with water.
The explosions were reportedly so big they could be seen from space. Their cause is unknown, however one Ruihai employee is believed to have been arrested in connection with the blasts.
Nuclear experts on site
City officials say they still don't know exactly what materials were at the warehouse at the time of the fire
Damage to the Ruihai company office is said to have made it hard to identify the chemicals.
Some 200 nuclear and biochemical experts are at the scene of the blasts. They are believed to be testing for toxic gases.
Wen Wurui, head of Tianjin's environmental protection bureau says pollution levels are being monitored.
The site has been sealed off and officials say contaminants have been contained in that location, as far as they are aware.
Contamination fears after deadly blast at Chinese port http://t.co/AEVvKm9TlApic.twitter.com/fpPtAzDptY

— FRANCE 24 (@FRANCE24) August 14, 2015
However, Gao Huaiyou, the Deputy Director of Tianjin's work safety watchdog says major discrepancies remain between what company managers are saying and accounts given by customs officials.