Chemical weapons used on Kurdish peshmerga - German report
Comments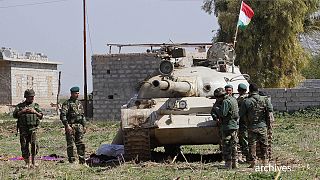 New evidence has emerged which shows Kurdish forces fighting in northern Iraq were allegedly attacked a few days ago with chemical weapons.
A report from German military observers obtained by AFP news agency said chlorine gas shells were used in an assault on on Makhmur 40km southwest of Erbil.
Unconfirmed reports suggest up to 60 Kurdish fighters suffered respiratory problems after the chemical attack.
American and Iraqi specialists are expected to investigate the claims further.
German military personnel are training Kurdish peshmerga troops to use weapons supplied by Germany to help them combat ISIL militants.