Croatia attempts to confirm hostage beheading after 'horrific' photo is posted
Comments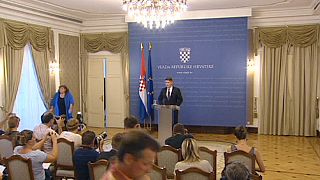 The Croatian government says it cannot be "100 percent" sure that a Croatian man has been beheaded by ISIL-affiliated militants.
Officials are trying to confirm the authenticity of a photo of a headless body, purportedly that of Tomislav Salopek, who was abducted in Egypt.
It has been circulated on social media by supporters of the Sinai Province group, the Egyptian offshoot of the self-proclaimed Islamic State.
"We have to break the silence, somebody has to do it. My duty is to tell the Croatian public that what we've seen is horrific,"Croatian Prime Minister Zoran Milanovic told reporters.
"I don't know if we will be able to confirm that it's true in the following days. But what we saw doesn't look good, it looks awful."
Thirty-year-old Salopek, employed by a French company specialising in oil and gas geology, was kidnapped last month while travelling to Cairo.
Sinai Province had threatened to kill him if Muslim women in Egyptian jails were not freed.