Iraq's PM announces government shake-up to save cash and cut corruption
Comments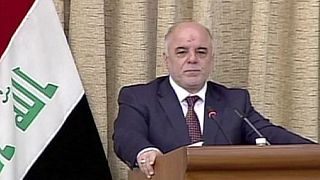 Iraq's prime minister Haider al-Abadi is calling for the multiple positions of vice president and deputy prime minister to be scrapped.
As part of a planned shake-up to save cash and cut corruption, a number of government posts would also have to be filled by political independents.
Iraq's system of sharing out government positions along sectarian lines has long been criticised for promoting unqualified candidates and allowing corruption.
Spending on personal bodyguards would be slashed too under the shake-up, while funds for national security forces would be boosted.
There have been weeks of protests in Baghdad and southern cities. Reforms and better public services are being demanded.
The constitution gives Abadi the right to dismiss ministers with parliament's consent.
Shi'ite cleric Grand Ayatollah Ali al-Sistani has pushed Abadi to "strike with an iron fist" against corruption.