Migrants from capsized boat arrive in Palermo
Comments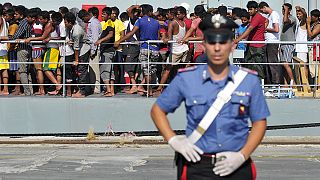 More than 300 migrants have docked in Palermo after being rescued from a boat which capsized off the Libyan coast on Wednesday. The Irish navy vessel also carried 25 bodies retrieved during the rescue operation in the Mediterranean
It comes as hopes faded of finding more survivors with more than 200 feared drowned.
This year alone more than 2,000 migrants and refugees have died trying to reach Europe by boat, a grim statistic that has led NGOs to call for more action.
"I think that this last crisis, this last accident, has shown very clearly that the current available capacity is not enough," explains Managing Director of Medecins Sans Frontieres Germany, Florian Westphal. "There have been improvements since the start of May. There are now more ships involved including those from Doctors Without Borders. But unfortunately it is still not enough. In order to save lives at sea this now needs to be the main priority for those involved."
After initials interviews with those onboard, it appears the fishing boat was crammed with mostly Syrian refugees fleeing the country's civil war.
Palermo's mayor said that "we are witnessing a genocide caused by European selfishness," while EU officials called on member states to do more to prevent migrants from making the dangerous journey across the Mediterranean.