Deadly car bombs hit Baghdad as Iraqi forces fight ISIL in Ramadi
Comments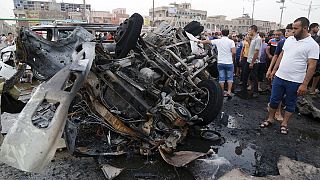 At least 10 people have been killed and 22 wounded in two car bomb attacks in predominantly Shi'ite neighbourhoods in Baghdad.
Six people were killed when an explosive-laden vehicle was detonated in the northeastern district of Sadr city.
Later on a car bomb killed four people in the northern al-Husseiniya district.
So far no group has claimed responsibility for the attacks, but near daily bombings in the country are often claimed by Islamic State militants.
More than 100km away in the western Anbar province, Iraqi police clashed with ISIL militants in Ramadi.
Iraqi forces backed by the US-led coalition launched an operation to retake Anbar last month.
Government forces had wrestled back control of Anbar University in the south of the city from Islamic State insurgents after the extremist group captured the provincial capital in May.