Boat carrying hundreds of migrants capsizes in Mediterranean
Comments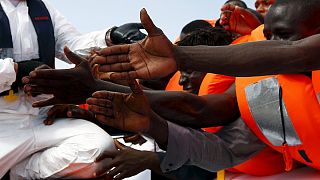 A boat packed with up to 700 migrants has overturned in the Mediterranean Sea off the coast of Libya.
It happened just as ships were coming to its rescue.
Italian and Irish naval vessels are trying to pluck survivors from the water. Nearly 400 have reportedly been saved.
The Mediterranean Sea is the world's most deadly border area for migrants, at least 2,000 of whom have died so far this year in attempts to reach Europe by boat.