Austria: overwhelmed refugee centre closes to new arrivals
Comments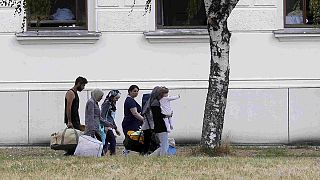 One of Austria's largest refugee centres is closing to new arrivals because it is bursting at the seams.
The facility, in Traiskirchen, south of Vienna, is designed to take up to 1,800 people. But more than double that number have reportedly arrived, forcing many to sleep outside with whatever bedding they can muster.
an updated list of needed things in #Traiskirchen camp, collected and listed by refugee women https://t.co/XSS8LELuzWpic.twitter.com/v8rOPjd2bE

— Mahriah (@Mahriah) agosto 3, 2015
Vienna last week pledged to improve conditions at its refugee centres and said its current laws were insufficient.
Thousands of people from countries such as Afghanistan and Syria have fled through the Balkans to Austria.
Asylum requests totalled more than 28-thousand in the first half of this year, more than the total for the whole of 2014.
Of the nine federal states in the Alpine country of 8.5 million people, only Vienna and neighbouring Lower Austria have achieved accommodation quotas set by the government.
To correct this, Chancellor Werner Faymann announced a new draft law that would effectively enable the government to force reluctant local communities to meet their quotas for hosting refugees.
He said the law, which aims to provide accommodation for 80,000 to 160,000 migrants, should be ready this autumn.
The failure to meet quotas has caused an outcry among the public and human rights groups including Amnesty International, which has been granted access to the Traiskirchen centre to assess the medical and human rights situation there.
Austria, which has demanded binding quotas to distribute migrants across Europe, announced in July that it would send around 500 asylum seekers to Slovakia to relieve pressure on Traiskirchen.
In July, the European Union failed to agree on how to spread 40,000 asylum seekers among its members.