Migrant crisis becomes hot political issue in Britain and France
Comments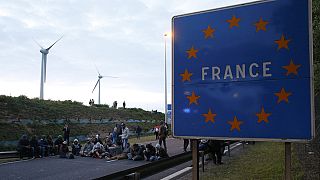 Migrants in the northern French port of Calais remain determined to reach the United Kingdom despite the deaths of nine people since June and an increase in the number of riot police dispatched to the area.
The issue has become a hot topic in both France and Britain with the British Prime Minister David Cameron coming under fire for describing the thousands of migrants attempting to enter the country as a "swarm". He added that the UK was an attractive location because the country has "jobs, a growing economy and it's an incredible place to live".
Meanwhile, the French Prime Minister Manuel Valls described the situation as "difficult" adding that it had "worsened since the beginning of 2014 because of the arrival of migrants through the central Mediterranean: This has happened with the help of criminal networks who have taken advantage of the situation in Libya. Currently there are about 3,000 migrants in Calais who are risking their lives to reach the United Kingdom."
The British government's emergency Cobra committee held a meeting on Thursday with the Home Secretary, Theresa May, announcing new security measures to ensure people do not enter the tunnel.
The crisis has caused major disruption for traffic heading to the Channel entrance in Kent with authorities saying there are nearly 6,000 lorries parked on the motorway.