Romanian police make record heroin seizure
Comments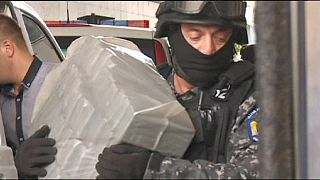 Police in Romania have made the country's record seizure of heroin, recovering 333 kilograms of the drug with an estimated street value of over 40 million euros.
They arrested four men – two Romanians and two Turks – who are believed to be the traffickers.
It follows a four-year surveillance operation of the suspected international crime ring.
Special troops were seen bringing the haul inside the police headquarters in Bucharest.
"We received the first information four years ago. We had surveillance missions on this crime ring since 2010. The code name of the operation was Green Arrow," said police chief Jean Cucu of the Anti-Organised Crime Unit.
Police released a video showing dogs searching a lorry.
Packs of heroin, said to be 60 percent pure, were allegedly hidden in fuel tanks aboard two trucks trying to leave Romania for Hungary.
They had apparently been soaked in chili pepper powder in a bid to avoid detection by sniffer dogs.
The heroin is believed to have come from Afghanistan and to have been destined for the Netherlands for distribution in the EU.