Yemen: Houthis ignore Saudi-proposed ceasefire
Comments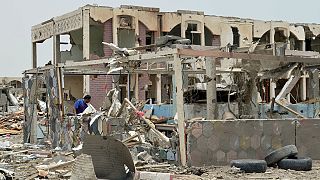 Witness reports suggest Houthi rebels in Yemen have ignored a humanitarian ceasefire declared by the opposing Saudi-led coalition.
Head of the Houthi Supreme Revolutionary Committee, Mohammed Ali al-Houthi, reportedly rejected the validity of the truce because the United Nations had not formally addressed the group about it.
At least 80 people are said to have died in a Shi'ite attack in Taiz Province, in the south of the country, a short while after the Sunday night ceasefire was supposed to start.
Hours earlier, Yemeni forces allied with the Saudi-led coalition battled the militia for control of al-Anad, the country's largest air base.
It lies 50 kilometres north of the major port city of Aden, which is currently controlled by pro-government forces.
Ahead of the ceasefire deadline, a Saudi cargo plane was able to deliver much-needed humanitarian aid to civilians in the city. Four months of civil war have killed 3,500 people and seen fuel, food and medical supplies dwindle.