Watch: dramatic landing of KLM plane at Schiphol Airport
Comments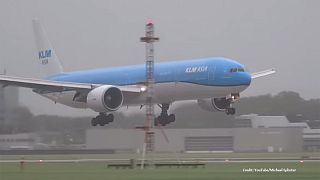 This is a landing some passengers may remember for a while to come. Conversely, it may be one they will be in a hurry to forget.
The captain battled with 120km/hour (75mph) winds as it approached the runway at Amsterdam's Schiphol Airport.
The Boeing 777-300ER plane was en route from Osaka, Japan, when it encountered difficult conditions on approach to the Netherlands capital. There were no injuries reported.
The landing took place after the country received a code red weather warning that left many regions battered by winds.
Drivers of vulnerable vehicles were warned to be especially careful on the roads.
One driver lost his life in the Gelderland province, in the eastern part of the country, when a tree fell on his car, and there were reports of several injuries in different cities.
Meteorologists said it was the most violent July storm in the Netherlands since records began in 1901.

Credit: YouTube/Michael Splinter