Three dead in US cinema shooting in Lafayette, Louisiana
Comments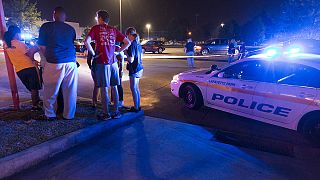 A man has opened fire in a cinema in the US state of Louisiana.
Three people are reported to have died during the attack in the city of Lafayette. They include the gunman who police say shot himself.
Several others were injured, some of them critically according to local media reports.
Witnesses are quoted as describing the gunman as a white, older man.
He apparently stood up and opened fire on those around him without saying anything.
The shooting happened at the "Grand Theater" cinema during an early evening screening of the film "Train Wreck".
Amy Schumer, who stars in the film, tweeted her reaction to the tragedy soon afterwards:
My heart is broken and all my thoughts and prayers are with everyone in Louisiana.

— Amy Schumer (@amyschumer) July 24, 2015
I'm on my way to Lafayette right now. Please say a prayer for the victims at Grand Theatre and their families.

— Gov. Bobby Jindal (@BobbyJindal) July 24, 2015
Republican Louisiana Governor Bobby Jindal, who travelled to Lafayette, said such "senseless acts of violence" made people both furious and sad.
Police in Lafayette have been quoted as saying the gunman used a pistol and was known to them, without giving further details.
The shooting came almost three years to the day since a gunman killed 12 people and injured dozens at a cinema in Colorado.
A jury is due to decide whether James Holmes, who was found guilty on multiple counts of murder last week, should face the death penalty or life in prison.
President Barack Obama has said in an interview with the BBC that the greatest frustration of his presidency has been his failure to reform US gun laws.
.BobbyJindal</a> in response to question on gun control: &quot;let&#39;s focus on victims now ... tonight&#39;s not the night to be political&quot; <a href="https://twitter.com/hashtag/lafayette?src=hash">#lafayette</a></p>&mdash; Casey Ardoin (Casey_Ardoin) July 24, 2015
Reaction on social media to the latest mass shooting quickly built up at #LafayetteShooting