Japan pulls plug on new Olympic stadium plans
Comments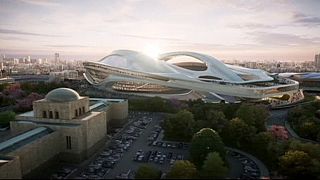 Japan's new National Stadium has been scrapped as the main venue of the 2019 Rugby World Cup and the Tokyo 2020 Olympic Games.
Prime Minister Shinzo Abe announced the decision to shelve the proposed design in order to cut costs and because it would not be ready in time for the rugby event.
"The construction cost has been greatly inflated and there was criticism from the public, including the athletes, on the plan, which made me believe that we'll not be able to host an event that everyone in this country will celebrate," he said.
The new revised stadium will be ready for the 2020 Olympic games but nothing definite was said about where the rugby events would be held instead.
Media reports said the final could be held at Yokohama's International Stadium, which hosted the 2002 football World Cup final between Brazil and Germany.