Afghanistan hit by wave of bomb attacks
Comments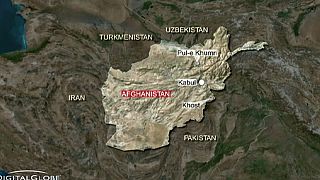 Afghanistan is reeling from a wave of bomb attacks over the past two days.
First a suicide car bomber killed 33 people on Sunday near a military base in the southeast that is used by NATO and was formerly occupied by the CIA.
Then on Monday at least 25 people were injured in an attack on a mosque in the north of the country.
In the evening a blast inside a mosque in the unstable Baghlan province wounded 28, according to the police.
Two earlier attacks in Kabul reportedly caused no victims.
Sunday's suicide attack happened at a checkpoint on the outskirts of Khost.
The UN said at least a dozen of those killed were children, and most of the casualties were civilians.
The base now has Afghan and foreign troops; the US military says none of its personnel was hurt.
The base at Camp Chapman was once used by the CIA to help oversee strikes against militants and it was unclear if the intelligence agency still operated there.
Camp Chapman suffered one of the worst attacks in CIA history in late 2009, when seven intelligence officers were killed by an al Qaeda operative whom the Americans thought had been "de-radicalised".
No-one claimed responsibility for the attacks. They come less than a week after the first official contact between the Afghan government and Islamist rebels.
The Taliban have previously admitted carrying out attacks against Afghan and foreign troops, but have been reluctant to claim responsibility when civilians have been killed.
NATO still has a force of some 12,500 forces in Afghanistan responsible for training local forces in their struggle against the Taliban and emerging insurgent groups pledging loyalty to the self-proclaimed Islamic State militants.