A Viennese Waltz of rumours, but still no Iran nuclear deal
Comments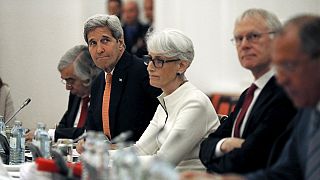 Iran's foreign minister, taking a breather from marathon nuclear talks in Vienna, confirmed to waiting reporters from the hotel roof that a deal would not come within the self-imposed deadline of Monday night.
After 17 consecutive days of talks between Iran and six world powers, still it's unclear what the result will be: an agreement, a deadline extension, or failure
Asked if there would be a deal on Monday night, Mohammad Javad Zarif's Zarif said "No," ISNA reported.
World powers and Iran had given themselves until a midnight deadline to reach an agreement – and there had been feverered speculation that a deal would be announced on Monday.
If #IranDeal reached, triumph of diplomacy means we all will have won when we all could have lost. Plain and simple; no spin needed.

— Javad Zarif (@JZarif) 13 Juillet 2015
A scheduled TV address from Iran's president on Monday evening did not materialise.
The White House insists that "genuine progress" has been made but that "significant issues" still need resolving, adding that it expects the talks to continue.
It concluded a day when negotiators had given optimistic – and at times contradictory – statements about just how imminent the historic deal was.
The deal would give Iran sanctions relief in return for limits to its nuclear programme.
But there's still deadlock over lifting a UN arms embargo and other issues, such as the speed of sanctions relief and access for inspectors to Iranian military sites.
The West has long suspected Iran of aiming to build nuclear bombs – an accusation strongly denied by Tehran.
Euronews correspondent in Vienna, Reihaneh Mazaheri, reported:
"After 17 consecutive days of talks between Iran and six world powers, still it's unclear what the result will be: an agreement, a deadline extension, or failure. Although the negotiators say all the circumstances are in place to reach an agreement that is virtually done and dusted, it seems making the final political decision is not so easy. Analysts say the final bargaining about a new resolution from the UN Security Council is to be continued. This resolution is supposed to replace all the previous ones at the United Nations."