Greece: this is the best deal so far says Tsipras
Comments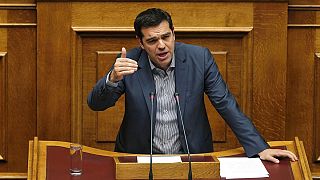 The Greek parliament is voting tonight on the crucial third version of a deal aimed at freeing up 53.5 billion euros in bailout funds from international creditors and hopefully avoiding a Grexit.
Prime Minister Alexis Tsipras assured the chamber that the seed of democracy they have planted will bloom.
The 13-page document is essentially the same one that was presented to the country two weeks ago.
It contains cuts and spending measures thought to come to 1.5 billion dollars.
Supporters of the No vote that swept to victory in last weekend's referendum gathered outside in Syntagma Square to make their voices heard.
If agreed, the plan will go to Brussels where a Eurogroup meeting is due this weekend.