Greece: shopping frenzy to outwit the haircut
Comments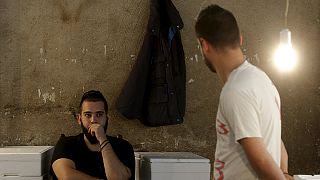 Worried about what the future holds, Greeks are looking for safe places to store their cash.
There is talk that the banks will be forced to take a slice of customers savings as a one-off tax; a so-called "haircut".
This is panic-buying – but it is money that is scarce, not fridges and washing machines.
#Greece's wealthy spending wildly on jewelry & tech 2 avoid bank savings 'haircut.' http://t.co/ZT1cHy3r36 via MailOnline</a></p>&mdash; Hyper Observer (HyperObserver) 8 Juillet 2015
Euronews spoke to the owner of an electrical store: "There were no clients for the first two days after the banks closed," he said. "When the rumours started about a haircut, people started buying large white goods. We have doubled our profits. But of course, as everyone knows, there is no money.." he finished, with an ironic smile.
Varkakeois Market is empty. Few people seem interested in buying daily staples like fish and meat.
Ichthyoskales fish auction is the largest in Greece, but it too is feeling the economic crunch http://t.co/Y3o3IaHWVnpic.twitter.com/pE7tKGKVlF

— New York Times Video (@nytvideo) 9 Juillet 2015
"We don't really know what will happen to us," one stall holder told Euronews."People are worried and frustrated. They are trying to get their heads around what is happening, they are trying to accept that someone else controls their purse strings."
"Nothing really changed with the capital controls." a woman confided as she bought a few essentials. "We were used to surviving on so little. But now life is more difficult, with everyone queuing at the ATMs. So many people are suffering and it is really sad, we are going back to the dark ages."
On the normally-bustling high street, the fashion stores are quiet.
These items represented luxury not long ago says Euronews correspondent Apostolos Staikos. Now they are all about security. Talk of a haircut has left many Greeks afraid and they are buying washing machines, refrigerators and TVs with their credit cards. So while some businesses have no customers, others are doing a roaring trade.