Flypast marks 75th anniversary of Battle of Britain
Comments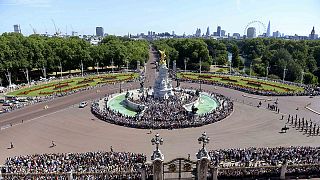 Britain's Queen Elizabeth and other members of the royal family turned out to watch a flypast of RAF planes marking the 75th anniversary of the Battle of Britain.
Wartime Spitfires and Hurricanes shared the sky with modern Typhoon jets.
Britain's victory over the Luftwaffe in the aerial conflict over southern England prevented a Nazi invasion.