Gaza 0% rebuilt, one year after Operation Protective Edge
Comments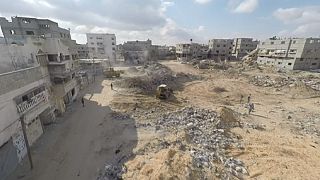 One year after fighting between Gaza militants and Israel, the Palestinian enclave remains heaped with ruins — infrastructure and thousands of homes destroyed, displacing around 100,000 people.
Imports of reconstruction material are restricted.
The United Nations last month said it could take 30 years to repair the damage.
Israel's Operation Protective Edge was the third war in six years. It lasted for 50 days. Health officials said more than 2,100 Palestinians, mostly civilians, were killed and 10,000 wounded.
The air and artillery bombardment and then a ground invasion were retaliation for rocket and mortar attacks into Israel from Hamas and Islamic Jihad militants. this had followed previous air strikes after three Israeli teenagers were abducted and murdered.
Israel said six of its civilians were killed and 67 soldiers.
The UN chief investigator afterwards said the Gaza suffering was unprecedented and far-reaching, while Israelis under regular threat also live in fear.
Read Oxfam's latest update on the situation in Gaza
Donors in October pledged billions to rebuild, about a quarter of which has been turned over. The donors want the Palestinian Authority, led by Mahmoud Abbas, to take a role in governing Gaza. Hamas won an election in 2006 and has resisted powersharing.
The 1.8 million Gaza population, growing by 50,000 a year, live in a strip of 362 square kilometres of land. According to the World Bank, Gaza's more than 40% unemployment rate is the highest in the world; 60% of the young are unemployed.
Many say they would leave if they could. A unity government pact signed with the Palestinian Authority was dissolved last month. A spokesman vaunts Hamas resilience.
Sami Abu Zuhri said: "The real result a year after the war in Gaza is that it is hard to defeat Gaza, or defeat Hamas. This makes all the interested international parties maintain the truce. This makes us feel the spectre of war is far away from Gaza."
Further complicating the dangers is the encroachment of ISIL (Islamic State) militants or their allies in the Sinai region of Egypt. Israel accuses Hamas of providing support or joining their activities — another potentially explosive challenge for Egypt, Israel, the international community and rival Palestinian factions.