Pope puts the family at the heart of his first Ecuador mass
Comments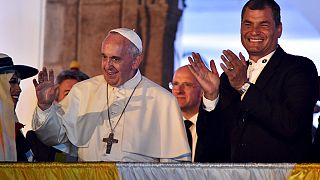 On the first full day of his three-nation trip to South America, Pope Francis was greeted by thousands of excited Ecuadoreans in the coastal city of Guayaquil.
The port is sometimes referred to the world's "banana capital" given its bustling fruit trade.
It is also the departure point for the Galapagos Islands, where Charles Darwin began to formulate his ideas on evolution.
Francis was in the country's second city to conduct mass for more than half a million people.
The 78-year centered his sermon on the theme of the family, which will be the subject of a month-long synod of bishops at the Vatican in October.
It's then contentious issues such as welcoming Catholics who have divorced and remarried outside the Church and how to reach out to homosexual catholics will be discussed.
Pope Francis' Homily at Mass in Semanes Park, Guayaquil http://t.co/9s0vJOqDBqpic.twitter.com/RwNkpe7HSR

— Zenit English (@zenitenglish) July 6, 2015
In the meantime the pope used Tuesday's sermon to stress the importance of the family which he said is the first school for children, the base reference for youth and the best nursing home for the elderly.
After Ecuador, the pope heads for Bolivia and Paraguay on his 7-day tour encompassing three of the region's poorest and smallest countries .