Iran talks could get new deadline extension says Washington
Comments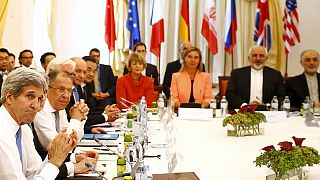 With the deadline for a nuclear deal less than a day away, Iran is pushing for an arms embargo on the country to be lifted.
The demand from Tehran is among a few of the finer details to be ironed over between Iran and six world powers in order to strike a deal by Tuesday nigh.
With serious differences remaining between all sides, Washington is not ruling out extending the deadline once more.
Speaking to euronews, Alan Eyre, the US state department Persian language spokesman at the talks said:
"We need a good deal. But we are not really in a hurry to achieve a good deal.
We should work seriously but we should be working through it step by step. Our focus is on getting the agreement by tomorrow (Tuesday). If we can't we should make a decision later. All options are on the table (to extend the agreement). "
The deal aims to curb Iran's sensitive nuclear work in exchange for relief from sanctions which have crippled its economy. Euronews correspondent Reihaneh Mazaheri concludes:
"The nuclear negotiations have entered a very sensitive phase. Here, the atmosphere suggested the calm before the storm. In the final hours before the deadline passes, all eyes are on the Coburg Hotel. Could Vienna be the "end point" to the Iran nuclear talks after more than a decade?"