Iran optimistic of leap in growth once out from under sanctions
Comments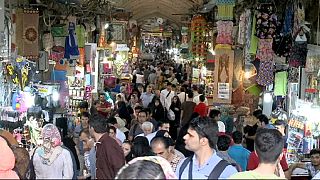 The Grand Bazaar of Tehran forms part of the economic core of the Iranian capital, where tradesmen and shoppers alike are keenly awaiting a lifting of sanctions by world powers, as part of a deal on Iran's nuclear programme.
Not all the country's economic ills are rooted in the sanctions. The current government and most Iranian economists say that policy formulated during Mahmoud Ahmadinejad's two terms as president laid the destructive groundwork.
A retailer in the bazaar explained simply: "The dollar went up, purchasing power went down. You can see the shopkeepers in front of their shops with no customers."
Embargoes added pressure on a faulty economy. Basic needs that the country can't meet itself are imported with difficulty and at high cost, notably affecting health. Since the sanctions, medicine prices have more than trebled, the black market thriving.
Pharmacist Zohreh Nahid told us: "The medicine for special illnesses or even some cancer medication is imported with delays, the prices going up each time. I hope the negotiations make progress, and that pressures over medicine and all aspects of people's lives will be gone, forever."
With sanctions gone, the Iranian Central Bank figures the country could see growth of at least two per cent, clearly including consumer enthusiasm, for everything from luxury to more ordinary goods.
Café owner Mahdi said: "I don't expect the dollar exchange rate to dive right after we're relieved of the sanctions. That would be an unrealistic wish. But I do expect the market to move and business to jump out of the slump it's in now. People's money should come into the market, and that in itself should start a boom."
Iran's economy came out of two years' of recession last year. The punishing effect spread from UN-backed sanctions — the banning of weapons and technology sales, the choking off of international oil sales and of banking transactions, and the freezing of targeted individuals' and company assets. Credit card services for small businesses were also curtailed. Basic food prices rose dramatically.
Our correspondent Javad Montazeri summed up: "Lifting sanctions and economic growth are Iranians' top preoccupations, which is why they are following news of the nuclear negotiations in Vienna so closely, hoping to hear 'the sanctions are over.'"