Greece: Mixed reception for Finance Minister Varoufakis as he votes in referendum
Comments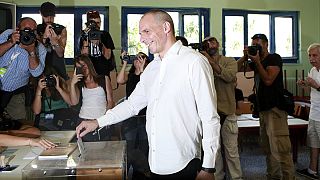 There was a mixed reception for Greece's Finance Minister Yanis Varoufakis, voting in Sunday's referendum with his 90-year-old father in Athens.
Varoufakis leaves few people indifferent.
His blunt rejection of a deal that would mean more austerity has alienated many euro zone colleagues.
The referendum, he says, is a "celebration of democracy" to let the people decide.
"For five years now, the tremendous failures of the Eurogroup has led to ultimatums and the Greek people have had no say," he told reporters.
"Today…the Greek people have a chance to decide on the last ultimatum from the Eurogroup, the institutions, the partners."
Varoufakis, however, has antagonised some closer to home.
After voting, one man tackled the minister on his wealth and lifestyle – Varoufakis has come in for criticism after being photographed at home in a glossy magazine.
The man said: "Come with me to see the crowds of people waiting at Alpha Bank,".
In reply, Varoufakis repeated a pledge to resign if the 'Yes' vote wins.
Another man asked: "Mr Varoufakis, what value will the money have? What will it be worth in the next few days? What will we be able to buy with it?"