Greek society near paralysed by bank freeze
Comments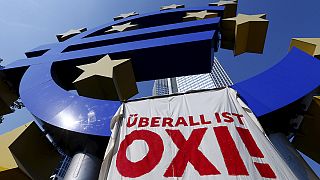 On the last weekend of June the Greek government announced a referendum. The choices: accept lenders' continuing austerity conditions on another bailout or refuse, with doubtless heavy consequences. Portuguese RTP went round Athens with a young taxi driver.
Through five years of austerity, many Greek businesses have collapsed, dramatically shrinking the employment base. Many of those that have managed to keep going were brought to their knees by the bank freeze, Swiss RTS reported.
Around half of Greek households rely on pensions. Payments have been reduced as part of the past five years' austerity measures. The lenders want more cuts, as part of reforms. The government refused. A huge number of pensioners already live below the poverty line. Swiss RSI.
The European institutions hold a large part of the Greek debt, but so do the other eurozone countries, meaning their taxpayers. This works out to 700 euros per German, 630 euros per Italian and 600 euros for every French person. Even little Slovakia lent money to Greece. France 2