Boosting foreign trade on agenda at tenth Pacific Alliance Summit
Comments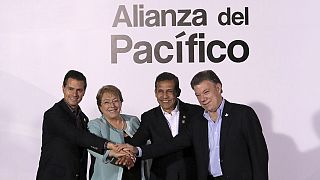 The tenth Pacific Alliance Summit saw the Presidents of Peru, Colombia, Chile and Mexico gather in the Peruvian seaside resort of Paracas.
There they discussed accelerating import and export procedures. It's a move the leaders hope will boost the countries' foreign trade.
At the summit Mexico handed over the presidency of the alliance to Peru.
Speaking following a panel discussion, Mexican President Enrique Pena Nieto said:
"The policies that the governments of Peru and Mexico have are similar. We have shared values. This allows our societies to have a better future and greater prosperity."
The Pacific Alliance has 32 observer nations, including the UK, Germany, Spain, France and the US.
A trade-based partnership, it seeks to promote economic growth and development among the member countries.
However, figures released during the summit show trade between the four countries makes up just four percent of their total exports. This is despite the four countries making up over 50 percent of the GDP of Latin America and the Caribbean.
Peru, in particular is looking to capitalise on the Chinese market to double its avocado production.