Ku Klux Klan set for Confederate flag rally as black church fires probed
Comments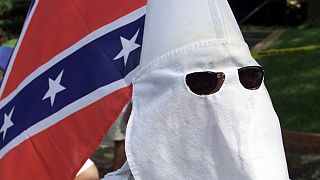 The Ku Klux Klan (KKK) is set to stroke tensions in South Carolina, it's emerged, as investigators probe a series of fires at predominantly black churches.
The white supremacist group will hold a rally later this month (July) in support of the Confederate flag, a month after Dylann Roof allegedly opened fire at a church in Charleston, killing nine black people.
It comes as federal investigators look at who is behind seven fires at black churches in southern US states, which have all happened since the Charleston massacre.
The latest fire came at Mount Zion African Methodist Episcopal Church, South Carolina, on Tuesday (June 30) – two decades since it was torched by the KKK.
CCFD on scene mutual aide to Williamsburg County for working fire at Mt. Zion AME Church. Fire now under control. pic.twitter.com/Wt13RLGQDo

— Clarendon County FD (@clarendonfire) July 1, 2015
However, investigators have not said the fires are hate crimes and no link has been made between them and white supremacists.
Suspected shooter Roof, 21, had posed with a Confederate battle flag in photos posted on a website that displayed a racist manifesto attributed to him.
It meant, in the aftermath of the shootings, there was a fresh focus on the flag and its perceived link to black slavery.
Many have demanded the Confederate flag is removed from state buildings, such as in Columbia, the capital of South Carolina.
The Loyal White Knights chapter of the Ku Klux Klan, based in Pelham, North Carolina, said it will rally at the South Carolina State House on July 18.
"We're standing up for the Confederacy," said James Spears, the chapter's "great titan".
He said speakers would address slavery, then the Klan will hold a cross-lighting, or cross-burning, ceremony on private property.
The Ku Klux Klan, a white supremacist group also known as the KKK, is known for its history of violence toward African-Americans.