American Civil War flag offends many as symbol of slavery
Comments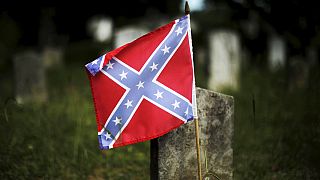 Held for nine murders in Charleston, South Carolina, Dylann Roof has also fired up passions in the United States over the flying of a southern battle flag.
It dates from Civil War America's Confederate States, whose cornerstone was "that the Negro is not equal to the white man" — in the words of 1861 Confederate Vice President Alexander Stephens.
The Southern cross — a dark blue saltire studded with 13 white stars, against a red background — may be a symbol of pride to many, but to protesting rights advocates that pride is misplaced.
Cornell William Brooks, NAACP President, speaking at a peaceful demonstration in Columbia, SC, said: "When we see that symbol lifted up as an emblem of hate, as a tool of hate, as an inspiration for hate, as an inspiration for violence, that symbol has to come down! That symbol must be removed from our state capital!"
South Carolina is the only state that still flies the traditional battle flag just in front of the state government building, next to a memorial for Confederate war dead — a banner carried by the armies that fought to keep slavery. From 1961 to 2000, it flew from the top of the State House dome.
South Carolina resident Durant Ashmore said: "I think its a terrible insult to the black residents of the State of South Carolina. It's a symbol that they are inferior citizens, and they are not: they are equal. South Carolina is a diverse state and we should revel in our diversity."
Other states (although not South Carolina) that rejected emancipation use elements of original Confederate flags in their official ones today: Arkansas, Georgia, Mississipi, Tennessee, Alabama, North Carolina and Florida.
The controversial flag was dubbed the 'Stainless Banner' in 1863. The Ku Klux Klan adopted it. This white supremacist movement at first actively undermined post-Civil War governance, and 100 years later was still terrorising black Americans and fighting desegregation and the Civil Rights Movement.
South Carolina Republican Governor Nikki Haley referred to the so-called Stainless Banner as a "deeply offensive symbol of a brutally offensive past".
"That flag, while an integral part of our past does not represent the future of our great state. My hope is by removing a symbol that divides us, we can move forward as a state in harmony and we can honour the nine blessed souls that are now in heaven."
Offering condolences to the families of the nine Charleston church victims, leading Republicans have also said the flag should come down.
Having avoided the question for years, the second-term Haley has urged South Carolina's legislators in Columbia to address it in a special session in the next few weeks.